This, as well as all other Wilde & Woolly Bears, is an original by Terry Spear. The first of the series was given to Governor George W. Bush to commemorate the 2000 election. Copies of the letter thanking me for the gift will be included with each bear purchased. The Bush Bear is limited to 300. Purchase these collectible bears before supply runs out!
Bush '2000' Bear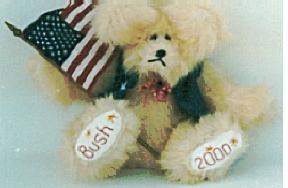 Bush '2000' Bear created in Crawford, TX, home of President George W. Bush!

To order, send check or money order for the amount of $35.00 plus shipping & handling of $4.00 to: Terry Spear, 509 Stardust Road, Crawford, TX 76638. Bears will shipped upon receipt of funds.