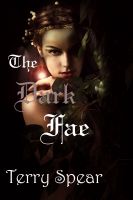 The Dark Fae
(The World of Fae, Book 1)
Alicia has planned a vacation at South Padre Island with her girlfriend Cassie in forever. But just as they're enjoying a day on the beach, here comes a dark fae to spoil their holiday, except only she can see what he truly is. Alicia has no idea how upside down her world can turn with a chance meeting with one of the dark fae from the royal house of the Denkar.


Alicia's always known she's different--that she can recognize the mischievous fae when they show up to "play" with the humans. Only now she's faced with one highly annoyed dark fae and she's certain he knows the truth about her. She can see him, which means her life is forfeit.

Add to that, his sister arrives, who wants to play, too. And their mother, the queen of the Denkar, will want Alicia's head, once she learns what Alicia can do.

And all because Alicia was attempting to rescue her friend, Cassie, on their beach excursion at South Padre Island, from the wicked fae. Now, Alicia has really gone and done it--and she's thinking she should have let the fae have his fun. Her friend's broken heart would be a lot easier to deal with, than Alicia losing her life.

But it is too late for regrets. As soon as she threw the soda at the dark fae's chest, she had declared war on the fae. And he is happy to take up the challenge.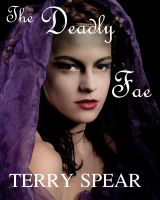 The Deadly Fae
(The World of Fae, Book 2)
Lady Sessily is a dark fae, an assassin, and she intends to retire and take up some other occupation so she can have a normal life. Get a boyfriend. Visit the human world to hassle humans like many of her kind do. Attend fae kingdom parties, not as the mystery woman who is scoping out her next intended victim, but just to have fun. Until tall, dark, handsome, and deadly interrupts her plans.

Lady Sessily is on a mission to assassinate a fae lord who is the most evil kind of fae. But when she is thwarted, not once, but twice by another fae lord, she is ready to strangle him. And she'll do it for free.

Tall, dark, handsome and deadly Lord Fairhaven insists she do a job for him. Which she refuses. But the lord is not one to take no for an answer.

The crown prince of the cobra fae doesn't know what to think when he hires a master assassin who turns out to be a woman--not her father like he'd been led to believe. But can she eliminate one of the most powerful queens of any of the fae kingdoms without getting herself killed?

He soon rethinks his plan as he gets to know the woman he begins to think of as his angel assassin.
---
The Winged Fae (Book 3, World of Fae)

Serena, a royal member of the Mabara winged fae, has one goal in mind. Stop an impending marriage with a dark fae. As the fae are known to do, she stirs up trouble that she hopes will make her point and get her off the hook. Only nothing goes as she plans.

Niall, a royal member of the Denkar, aka the dark fae, is visiting South Padre Island when he catches a winged fae painting graffiti on a wall on the island claimed by his people. He is at once fascinated with the lovely girl and intrigued by her audacity, but as one of the Denkar, he must take her to task. Yet she's armed with a sleeping potion that makes his life intolerable. Between freeing her from his people's dungeon, her own tower, and fighting a knight in her honor, he wonders if he's lost his mind over one beautiful winged fae--when she's betrothed to his cousin!