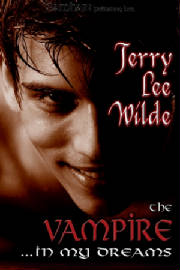 Buy the Book!
Read an Excerpt
The Witch –
Plain and average Marissa Lakeland doesn't believe in fate—or vampires. When she and her girlfriend chase after a gorgeous hunk of a guy one dark, misty night to prove he's truly a vampire, she's forced to face her worst nightmares—in the flesh. Rather, in the not-quite mortal flesh. So why does the thought of tall, dark, and vampiric appeal to her, when there's no way a vampire can compel a witch to do his bidding? At least that's what she's read in vampiric lore. But lore can be mistaken. Utterly mistaken.
The Prince of Darkness –
As soon as he sees Marissa, fledgling vampire, Dominic Vorchowski, knows that she's the only one who can save him. Only why does she have to be a witch? Humans are easy to compel, but a witch? Fate has thrown him together with the clever, bewitching teen and if he can gain her trust, he'll have his life back again. Except for that whole eternal thirst for blood thing. And the fangs. Not to mention the aversion to intense sunlight. In any event, he'll have his life back as normal as it can be. This time, he'll not mess with girls he knows nothing about. Especially when he's set his sights on one tantalizing teen witch, who's totally off the menu.
The Threat –
Lynetta wants Dominic to replace the lover she lost three hundred years ago, and no witch is going to take her guy away from her. Ancient vampires tend to get really cranky when they don't get their way. Really cranky. Like three-hundred-years-in-the-making
cranky. She's not just after Dominic's blood, she wants every bit of the hunk. Time is running out while Dominic and Marissa try to find a way to thwart the vampiress and her blood bonds from winning the battle of the night

.
---
Reviews


This story is masterfully told, giving each character (Marissa and Dominic) their own chapters told from their POV (point of view)…a most clever and unique way to tell a story in my opinion. This is a good love story, a very unique tale, and very well written by the author. I enjoyed this immensely. I give this a five plus and urge the author to make this a continuing series! Well done! 5 plus!
Reviewer: Penni, Ghost Writers Reviews, Review

5 Angels from FAR for The Vampire..In My Dreams!!
Terry Lee Wilde has written a terrific young adult story. Once I started The Vampire…In My Dreams, I could not stop until I got to the last page. Dominic is charming, witty, and is not against having Marissa help him. He does what he can to protect her, while realizing she can do more than sit and hide. Marissa is also a character to love. She knows she's not perfect, but she doesn't waste time whining about her faults. I was caught up in the story, and I can't wait to read more by Terry Lee Wilde.


Romance Junkies: 4.5 Blue Ribbon Review!!!
Terry Lee Wilde has written a wonderful young adult paranormal book that will appeal to romance lovers of all ages.

THE VAMPIRE…IN MY DREAMS has an action-packed plot filled with quirky, entertaining characters.

This unusual spin on the vampire romance lends itself well to the young adult market, while adult readers will be just as enchanted by this story.
As the action intensifies, Marissa and Dominic encounter both human and paranormal complications. They battle Lynetta's minions and deal with the everyday problems of school and parents. These disparate aspects of their lives are woven together in an intricate pattern that pulled me into the story completely. Surprising twists in the story kept me glued to the pages, propelling me along on Marissa and Dominic's amazing journey.

Snatch up your copy of THE VAMPIRE…IN MY DREAMS by Terry Lee Wilde today. It only takes one nibble of this delectable story and you will be hooked!



Ironically, it is when Marissa is hunting vampires that she meets her soul mate, who happens to be almost a vampire. Dominic has one shot at escaping a dark destiny, and the moment he sees Marissa, he knows she is the key to his return to being a normal human. Fortunately or unfortunately, Marissa is not a plain vanilla human; she's a witch, so he can't compel her cooperation, he has to win it. As soon as she truly comprehends what danger he is in and begins to love him, Marissa can't do otherwise, though, even if she is ticked about a slip up that could doom her as well. With time running out, the young couple has to defeat the dangerous female who sired Dominic or lose their souls forever.
Anyone who loves vampire stories should get this, regardless of their age. The legends are updated and reinvented with a fresh spin that holds your interest from the outset. There is just enough angst and tension to give this book an edge, yet light moments keep it from being dark or grim in any way. This is a world I'd gladly revisit. Ms. Spears' characters are believable, even with their gifts and powers, making them easy to care about.
~~Amanda Kilgore, Huntress Reviews
Rating: 4.5 Enchantments
This book successfully combines witchcraft and vampires. This book is great because each chapter is written from one character's point-of-view. Dominic and Marissa are both likeable characters and seem to bring out the best in each other. It is very well set in the system of high school. This author reminds me of Lynsay Sands and the way she describes the characters. (Except for the mind reading aspect.)
Great book, Terry! Hopefully, this will become a series and we will see more of Dominic, Marissa, and Kate!
Amy P.
Enchanting Reviews
May 2008
"This book just made it to my list of favorites! I love the twisting plot, descriptions, and engaging dialogue. The interactions between Marissa and Dominic kept me reading page after page. Marissa is kind of your average teenage girl with witch powers. Dominic is a sexy vampire who needs Marissa to help him break his bonds to an evil, ancient vampiress. What girl can resist a pick-up line like that?"
~~J.S., Baylor University student

Terry Lee Wilde is an amazing writer with an imagination that will blow you away. She has the ability to leave you wanting more at the end of every chapter. But when she delivers, it is out of this world. Reading Vampire...In My Dreams, was like being transported to a world I had always wanted to live in, but was never able to figure out how to get there. Until now! Wilde has a style that will keep you rolling with laughter but at the same time you are on the edge of your seat dying to know if it will turn out alright. The romance is just the right amount of sexiness and innocence. That you fall in love with both the heroine and her vampire boyfriend. With romance, mystery, humor and magic. She'll leave you craving for more blood.
~~~J. Reynolds, McLennan College student
---
Meet the Characters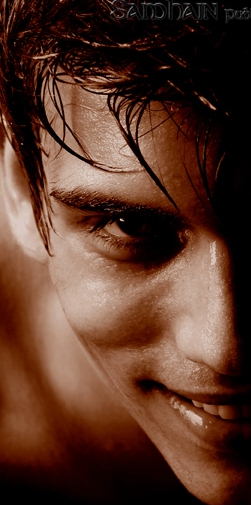 I
am Dominic Vorchowski. Through a slight mishap, I became a Prince of Darkness. Well, all right, so I kissed the wrong girl, but it wasn't all my fault. Being human put me at a disadvantage. She used mind control on me! What can I say? But hey, you have to deal with what life dishes out...
Except no way am I going to be a Prince of Darkness forever. Hmm, but seeing you clearly in the darkness of night is an advantage. At times like these I feel it's not so bad being me...the changed me, that is. Listen, just between you and me, Melissa's my heartthrob, but my brother, he's looking for a girl and... well, you might just be the one to help him through his dark mood. Why?
He sort of got himself into a hassle like me. Yeah, well, peas from a pod. Besides, he has the same excuse. Guys like us just don't have a chance against the vamps of the night. So what do you think? Would you like to meet him, too?