Montgomery Clan Bear pictured above.

Order your Celtic Clan bear for any special occasion for that Highlander on your list. Armstrong, Campbell, MacNeil, Montgomery, MacCormick, MacDonald, McLennan, MacAllister, MacFarlane, MacLeod, Thompson, MacPherson, Moncrieff, Sutherland, MacGregor, Stewart, and Shepherd Clans, plus Alexander, Bowers, Brewer, Burk, Burnett, Burns, Carmichael, Cook, Cooke, Donald, Donaldson, Fisher, Fullarton, Gowan, Hastings, Hawes, Hawthorn, Hewitt, Hudson, Hutchinson, Kelly, Keene, Saunders, Hamilton, Lindsay, MacArthur, , MacNab, Gordon and many more!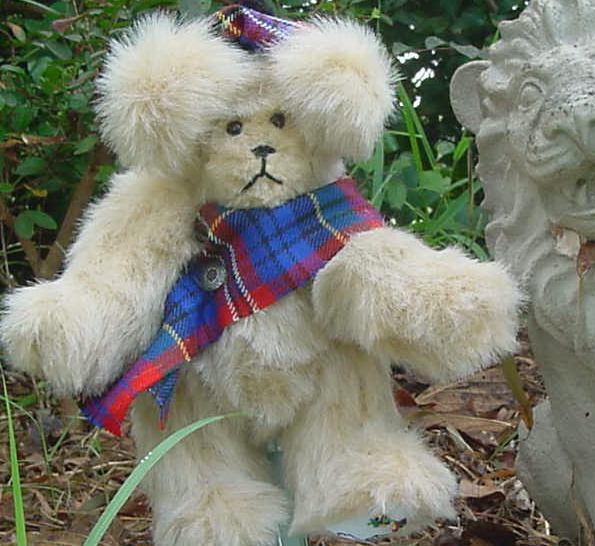 .

Wilde & Woolly Bears...designing handcrafted, original jointed teddies for twenty years. Celtic Clan bears are the newest creation for the collector interested in Celtic traditions. Having relatives from Scotland, Ireland, and Wales, I have been interested in the Celtic tradition for sometime, then finally decided to incorporate them into my bears, another long time love of mine.
Order Information
Terry Spear
Wilde & Woolly Bears
2668 Galaxy Road
Crawford, Texas 76638
1-254-848-9994

email: terryspear@ymail.com