Books-A-Million
Borders
Hastings
Target
Reviews:

Publisher's Weekly Review!!!
Heart of the Wolf Terry Spear. Sourcebooks/Casablanca, $6.99 (384p) ISBN 978−1−4022−1157−7
Red werewolf Bella flees her adoptive pack of gray werewolves when the alpha male Volan tries forcibly to claim her as his mate. Her real love, beta male Devlyn, has been out of her life for years, but comes after her when she finds herself accidentally captured by humans. Bella becomes convinced that Devlyn only wants to return her to Volan, but soon realizes that Devlyn loves her as much as she loves him, and is willing to fight Volan to the death to claim her. That problem pales, however, as a pack of red werewolves takes to killing human females in a crazed quest to claim Bella for their own. Bella and Devlyn must defeat the rogue wolves before Devlyn's final confrontation with Volan. The vulpine couple's chemistry crackles off the page, but the real strength of the book lies in Spear's depiction of pack power dynamics, as well as in the details of human−wolf interaction. Her wolf world feels at once palpable and even plausible. (Apr.)
(c) 2007 Reed Business Information, a division of Reed Elsevier Inc. All rights reserved
This action-packed, fast-paced adventure was a page turner that moves from moment to moment with an interesting subplot involving a murdering red werewolf, which is resolved in an unexpected way. As we move from the wilds of Oregon to the city of Portland to the zoo (yes, the zoo… and a funny story that is!) we are given a glimpse into a love that is amazing in it's intensity as Bella and Devlyn fight for the right to be together. Terry Spear is a fabulous voice in the supernatural genre, and I look forward to more from this author. A fun, rather intense read that will keep your interest till the last page.~~Review by Viscaria, Long and Short Reviews, 4.5 Books
New Review!!! Simply Romance Reviews GRADE: A
Heart of the Wolf is an outstanding read! Loaded with steamy, naughty sex its hot enough to scorch the pages and make you hot all over! Keep something cool nearby because you're going to need it! Like a freezer maybe. Devlyn is a werewolf any woman would want, and if she didn't—she's dead. He also learns the truth about redheads—the hair is a warning—things could get too hot to handle. ~Reviewed by Melisa
http://www.simplyromancereviews.com/srrreviews/heartofthewolf.aspx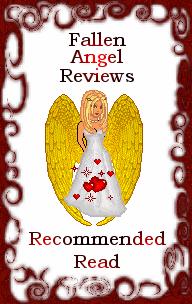 http://fallenangelreviews.com/2008/February/StephanieB-HeartOfTheWolf.htm
5 Angels & Recommended Read~~Fallen Angel Reviews!!
Heart of the Wolf by Terry Spear is a fantastic new addition to the popular trend of shape shifter stories. I loved this story, not only does Ms. Spear draw the reader into the lives of Bella and Devlyn and the other people they interact with but she has painstakingly researched the behavior of real wolves in the wild to add realism to the behavior of the werewolves in their wolf form and pack behavior. Normally I don't find shape shifter stories humorous unless it is intended to be a kind of spoof, but this story has a humorous streak running through it. There is a human man who wants to rescue the wolf form of Bella and place her in a zoo for her protection and he is relentless in his pursuit to save the stray red wolf. This man keeps complicating Bella's situation and adds some funny dilemmas for Bella and Devlyn to work around and right in the midst of all of their life threatening problems. Heart of the Wolf is full of action, adventure, suspense, and romance and is one of best werewolf stories I've read. I hope this is just the first book of a new series because I would love to read more by Ms. Spear about the wolf packs introduced in this tale. There are plenty of great secondary characters that would make interesting spin offs for another book. I highly recommend this book for anyone who loves a good paranormal, romantic suspense, and shape shifter story!

Reviewed by: Stephanie B.
Romantic Times Magazine Review:
HEART OF THE WOLF Terry Spear

4 Stars HOT

A solidly crafted werewolf story, this tale centers on pack problems in a refreshingly straightforward way. The characters are well drawn and believable, which makes the contemporary plotline of this story of love and life among the lupus garou seem, well, realistic. ~~
(SOURCEBOOKS, Apr.,417pp.,S6.99) Bunny Callahan
"You'll be drawn into the story from the first page to the last, wanting to know how everything will turn out. I love how Ms. Spear has intertwined true attributes of wolves to make the werewolf world come alive. Bella and Devlyn's devotion to each other is endearing. Their love scenes sizzle the pages … definitely hot! I look forward to reading more about this author's werewolf tales.I also recommend Terry Spear's, Winning the Highlander's Heart. If you like Scottish medieval hunks, this is a book for you."
Karen Michelle Nutt, author, ParaNormal Romance Reviews


Enchanting romance with a unique twist! The characters were so well developed and the writing so superior that it felt real to me, my reactions were as if I was a part of the story. If that's not a sign of a good book, what is? ~~The Romance Studio
"Heart of the Wolf was a real treat. I especially enjoyed the werewolf society politics and the red/gray wolf interaction. Also, how "wolf-like" the characters were, even when in human form :-) Really well done.
An absorbing mystery with intriguing characters and sizzling romance. I thoroughly enjoyed Heart of the Wolf." Joy Nash, USA Today Bestselling Author of Immortals: The Awakening and Deep Magic.
"Both warm and sexy, Bella will capture your heart as she tries to find her place in the world. Spear is a great new voice in the paranormal romance genre." Cathy Clamp, USA Today bestselling author
"Terry Spear creates a fascinating world full of intrigue and danger in HEART OF THE WOLF." Patti O'Shea--National bestselling author of THROUGH A CRIMSON VEIL
"A fresh new voice in paranormal romance! Terry Spear's Heart of the Wolf is sexy and action-packed!"--Tess Mallory, Highland Rogue
"I loved Heart of the Wolf! It is a fast-paced, sexy read with lots of twists and turns! Terry Spear creates a fascinating paranormal world with a hot hero, a smart heroine and several dark villains." Nicole North - Devil in a Kilt, Red Sage Secrets Vol. 27
For years shaper-shifter Bella Wilder has been in hiding, but in her heart of hearts, she knew this day would come. Smart, sexy, and determined, Bella is now a force to be reckoned with when she and charismatic Devlyn Greystoke, the man sent by their pack's leader to reclaim her, cross paths. By incorporating a series of unsolved murders that could threaten their species' very existence into this tale of forbidden love, author Terry Spear has ensured readers will be turning pages well into the night.
Sandy Blair, A Highlander for Christmas

Deb Werksman of Sourcebooks talks about Heart of the Wolf on Michele's blog